What is AirLink OS?
AirLink OS is a powerful software application that enables you to configure, monitor, and analyze Sierra Wireless gateways and associated applications/accessories. You can access AirLink OS directly over a physical or LAN connection to the device, or on AirVantage.
This page provides the following information:
Shortcuts for common tasks
At the top right of the AirLink OS screen, you'll find several icons. Clicking an icon enables you to perform the common tasks described below.
| Feature | Icon | Description |
| --- | --- | --- |
| Search | | Click to search for a feature or setting you want to view or configure. Enter a setting name like "LDAP" to find all settings that use that name, or enter a setting value like "IPv6" to find every place that value is entered. Press [ESC] to exit the Search results and return to the main screen. |
| Notifications | | Click the icon to view notifications. Notifications might include… |
| Template | | Click to create, modify or apply a device template. For more information, see the section on device templates. |
| Logout | | Click to log out of AirLink OS. By default, AirLink OS logs you out after 5 minutes of inactivity. You can configure the Session Idle Timeout setting on the Services > Web > Session menu. |
| More | | Clicking the More icon allows you to enable Development Mode. |
Basic navigation
AirLink OS lists its main sections in a menu along the left. Clicking a section heading displays a list of all sub-sections on that page.
The menu across the top shows you the sub-sections of the page. Clicking a heading in the top menu takes you to that sub-section.

As mentioned above, using Search is the fastest way to find the settings you want.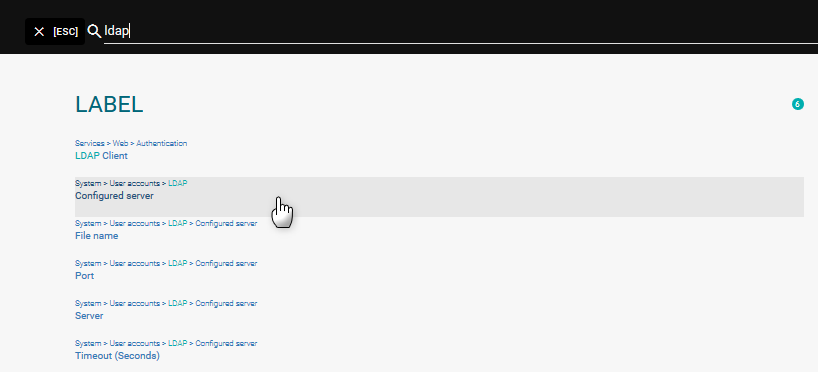 Other tips
While you're modifying settings in AirLink OS, the browser tracks and displays your progress with the status bar.

You can click the arrow (>) in the status bar to view every setting that you've modified so far. If you need to revert any of your changes-in-progress, click UNDO next to any of the individual lines or

to revert everything.
When you're all done, click SAVE to push your changes to the gateway.