IP Address column
In the Monitor> Systems, there is a new column in the grid for displaying the IP address. For customers that have a dedicated APN with static IP option, this new column will be filled with the static IP associated with each SIM.

In the Monitor> System details, three new fields have been added to complete the information widget: * IP Address (displayed if static IP only) * PUK Code * Authorized APNs for this SIM.
The IP address displayed in the Information widget is the static IP address that has been associated to your SIM in case you subscribed to the dedicated APN with static IP option.
The PUK code will only be needed in case you decide to enable the PIN code on your SIM and then forgets what PIN code has been set on a SIM card. To reset the PIN code, you will be requested to provide the PUK Code. By default, all our SIM cards come with PIN code disabled.
The authorized APNs field will list the different APNs available for your SIM card. The APN that has been configured on the device needs to be part of this list for the device to be able to establish a data session.

Export Data
You are now able to export your list of SIMs along with their main caracteristics if you need to import this information to an external system. Check below to understand how this functionality is working:
View SIM usage history
A new widget is available in the Monitor> System details to pinpoint the latest usages consumed on the selected SIM. The widget shows the type of usage (Data or SMS sent/received) along with the date at which the usage occured and the additional information related to the usage (duration, amount of data consumed, peer phone number depending on type of usage).
To view the full list of usages you need to click on the All>> link at the bottom of the widget, or you can also access it by clicking on the Usage History button in the top banner. The Usage History displays all usages consumed on the selected SIM (display is limited to 100 records at a time). You can drill down to a specific date by using the filters on top.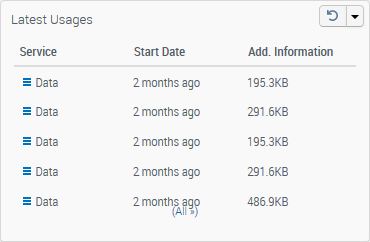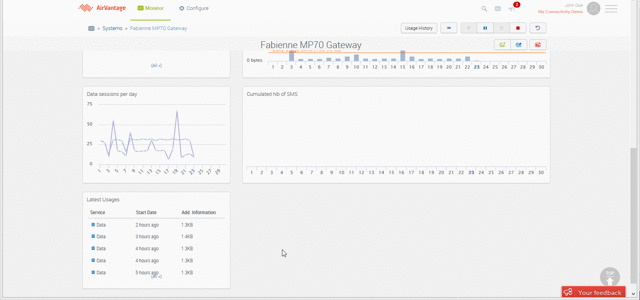 Limitation: Usages for Voice are not yet available for display, and the usages for data will only appear around 15 minutes after the session is closed.