Have a question on Sierra Wireless Connectivity?
Please check this page and contact us if you don't find what you are looking for.
---
Our support is available to answer your questions and concerns.
You can contact support directly from your AirVantage account
Once logged in, expand the user menu and select the Need Help? link or alternatively use the Contact technical support link from the start page of your AirVantage account at https://eu.airvantage.net/accounts/ .
This will direct you to a list of resources that can help you including how to contact the support.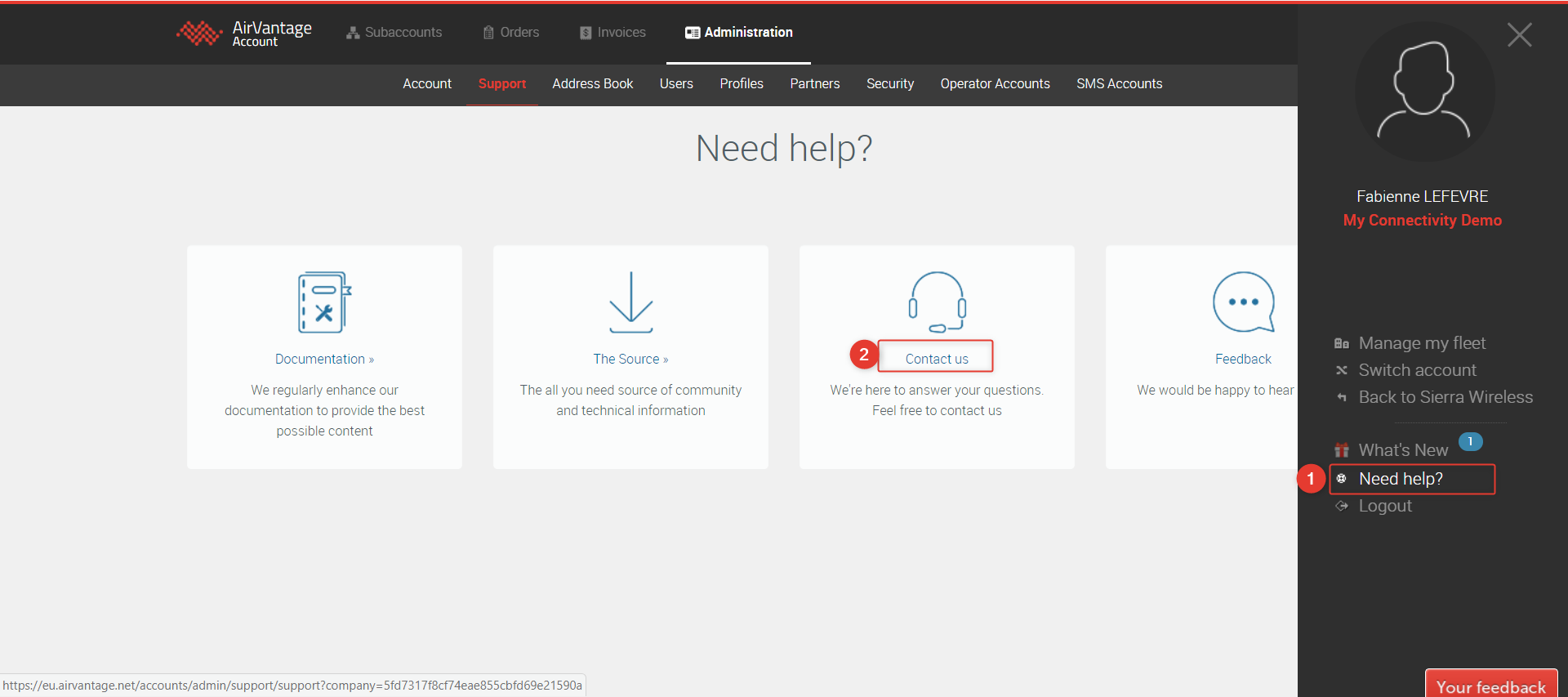 ---
Which browsers are supported by AirVantage?
The compatible web browsers are: Microsoft Edge, Mozilla Firefox, Google Chrome and Safari.
---
Is it possible to suspend the subscription from AirVantage?
Yes, you can suspend some of your SIMs you don't use for a period of time to prevent them from generating traffic on the network.
To Suspend a SIM:
From your AirVantage account, follow the Manage your Connectivity link
Select Monitor > Systems menu
Select the SIMs you want to suspend
Click the Suspend button
How can I trigger the Test-Ready Mode?
To benefit from the test ready mode, you simply need to activate the SIM on a Test Ready Mode compatible offer. For more details on Test Ready Mode, you can refer to the Life Cycle section of the Monitor Reference page.
What is the difference between suspending and terminating a subscription?
When a SIM card is suspended the traffic to and from the SIM card is blocked. The monthly subscription fee still applies. The SIM can easily be resumed. To terminate a SIM means that the SIM is decommissioned definitively from the network, there is no way to turn it back on. When a SIM is terminated, there is no more subscription cost associated with it.
I cannot connect to the network with my Sierra Wireless SIM card / Ready-to-Connect device
Typical causes for a unit being unable to connect to the network are listed below, with corrective action for each. If the actions below fail to fix the issue, please contact our support team for further investigation.
Is service active?
Connectivity service may not yet activated for your SIM.
To check whether a specific SIM is activated:
Click Manage my fleet from your account page (https://eu.airvantage.net/accounts)
Go into Monitor > Systems
Use the filtering capabilities to find your SIM using its Name, ICCID or other criteria
If the icon next to your SIM name is the one representing Inventory, your system is not activated yet.
You can check under Monitor > Operations whether an activation operation has already been launched on your system. If so, you can click the operation to get more details.
Is the APN correct?
APN configuration on your module may not match the authorized APNs on the sytem in AirVantage.
In order to double-check APN configuration for your system, go to its System Details page and look for the Authorized APNs field in the System Info widget.
The default APN for SW Advanced / SW Essentials is internet.swir.

The default APN for Ready-to-Connect eSIMs is fota.swir (Cat-1+ devices) or lp.fota.swir (LPWA devices).
A badly configured APN or an APN not allocating the expected fixed IP address will result into the device not being able to communicate or receive data.
Are SW Advanced SIM pre-requisites met?
If you are using a SW Advanced SIM, your module may not be configured properly. We recommend to check the following pre-requisites:
The SIM Application Toolkit (STK) is active on the module
The module is configured to run automatic network selection
GPRS/Packet data auto attachment mode is active on the module (for Smart SIM Advanced)
A complete list of module prerequisites is described in the Sierra Wireless Device requirements document.
Are you roaming on an LTE-only network?
If you are not able to attach on specific LTE only networks, such as Verizon, Sprint in the US or KDDI in Japan, you may want to check the options that you have activated on your systems. If you have activated some Circuit Switch related options, those networks will not be available as we can only provide data services when roaming to those networks. On the contrary, if you activate only data services options, we optimize coverage by adding the capability to roam on those networks. For more information, please refer to How to Change Provisioning Options?
---
I cannot activate my Verizon SIM card
To activate a Verizon SIM, you must assign an IMEI to the system prior to activation. Otherwise, you will see the activation errors shown below.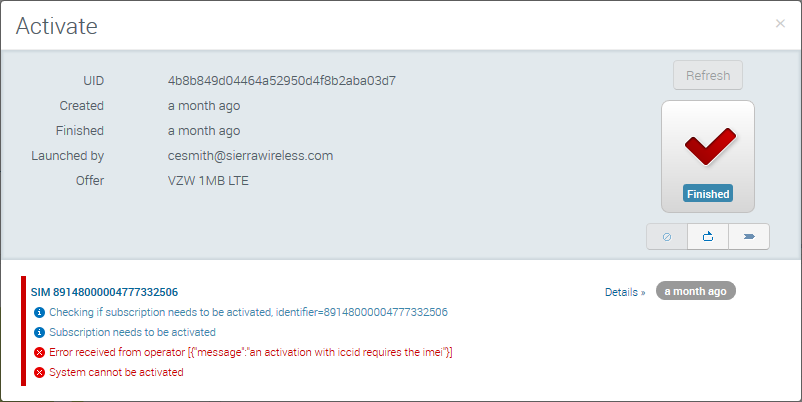 For details on entering the IMEI, see How to activate a Verizon SIM? .
---
Please note that usage data is only updated in the usage widgets of the user interface every hour. Usage history and timeline will display the start (resp. stop) of data session in near real time (usually in a matter of seconds) and voice usages (VOICE, SMS, USSD) will be fresh from the last 15 minutes.
---
I have ordered SIM cards but I haven't received them yet. What can I do?
When you place a SIM order to us, a status of this order is accessible from your AirVantage account. As soon as the order state is changed to shipped, we are supposed to send you an email with the information to track the parcel delivery (DHL or NorPost).
---
How often do I get an invoice?
We send an invoice on a monthly basis.
I have lost an invoice. What can I do?
You can retrieve your past invoices from your AirVantage account in pdf format.
---
How can I check AirVantage or Connectivity services health?
We report all Sierra Wireless services' live availability at http://status.sierrawireless.com. The status page can be easily accessed from the AirVantage login page—click the Server Status link.
For each service, information can be found on:
Live operational state of the different components
Planned maintenance windows
Past incidents
We also invite you to subscribe to receive notifications if one or more services are experiencing an outage and to be informed of any upcoming maintenance. To subscribe, click Subscribe to updates on the status page itself.
For complete information, see our Customer Subscription Instructions (PDF).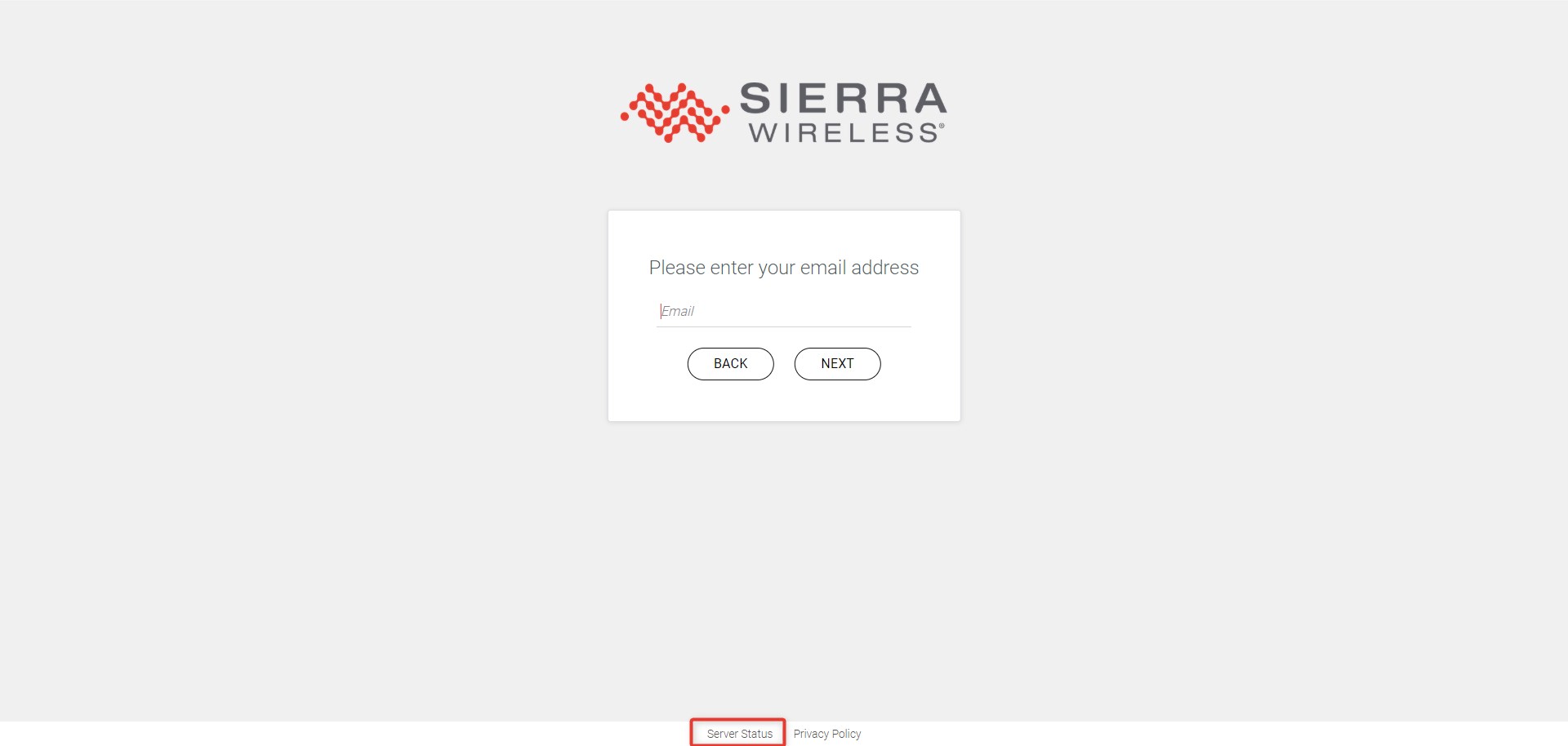 Among the wide list of products proposed within the status page, we suggest that you subscribe to the ones that make sense for your AirVantage offer:
Smart Connectivity—pick the service components for your region that are included in your bundles
SW Essentials3—pick the service components for your region that are included in your bundles
SW Essentials1—pick the service components that are included in your bundles
SW Essentials2—pick the service components that are included in your bundles
SW Essentials4—pick the service components that are included in your bundles
Enhanced Carrier Connectivity / MSO + Geographical selection
AirVantage in any of the cases above. For AirVantage, select the components for your region: User interface, Web services API, Device Front End and eventually Data Push if you have subscribed to that option.
Don't forget to clear all services for which you don't want to receive notifications not to be spammed by unrelated outages!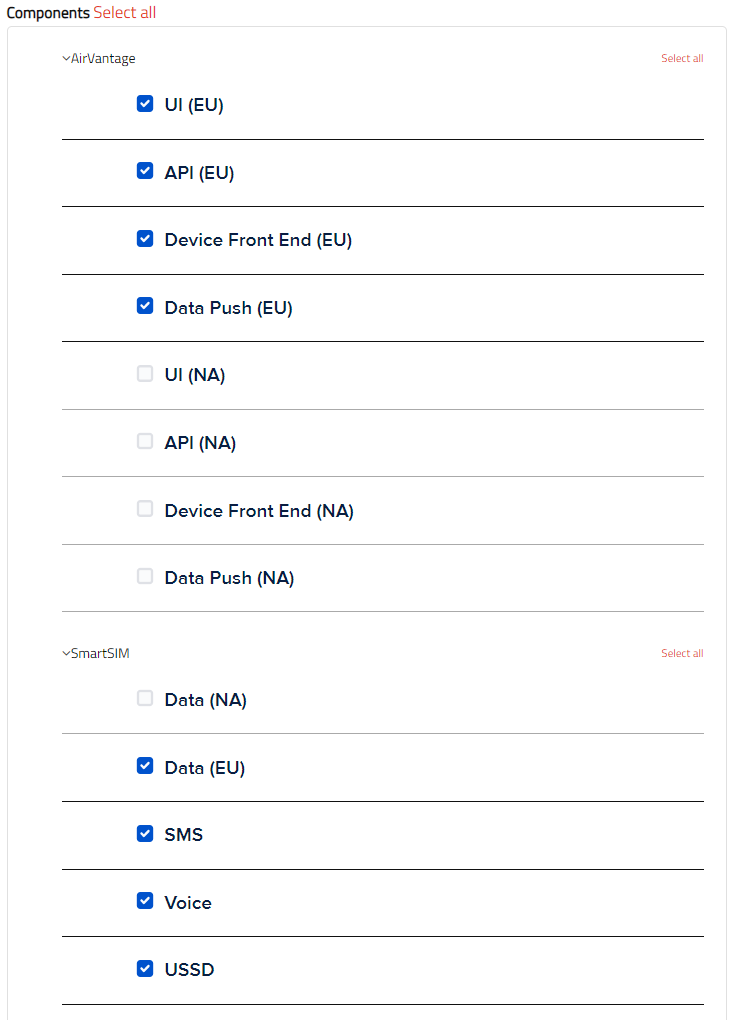 ---
Can I use an API to manage my SIM cards?
Yes, AirVantage provides an API you can use to perform some automation or integrate with another tool you are using.
Check out our Getting Started with AirVantage API document.