Activate the Sub-accounts option?
This options aims to allow you to spread your systems into different company, to compartimentalize each services or providers.
This option is available only for level 1 customers, not for a level 1 customer's subaccounts.
By default an account cannot manage sub-accounts. If you want to activate this option, you can contact the Sierra Wireless Technical Support Team. You should have received your credentials by email when your account was created.
If you do not have a support account, please contact your Sales manager.
Create a new sub-account?
From the sub-accounts grid you easily add a new sub-account.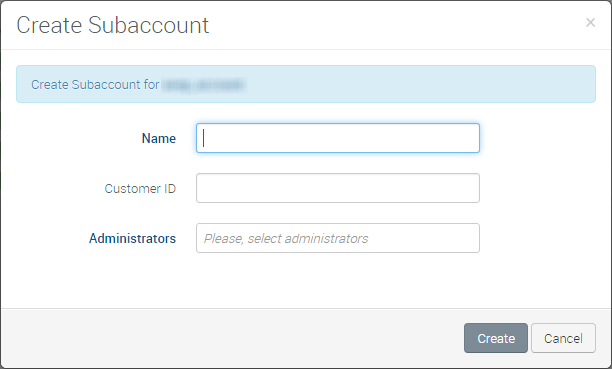 Click on the relevant button. A pop-up form displays:
Fill in the form:

Name: The name of your sub-account (mandatory field).
Customer ID: ID used in your own CRM system (optional field).
Administrators: Choose one or several Administrators from your own users list (mandatory field).
How do I check my sub-accounts' consumption?
To display the complete list of all your sub-accounts and their Datapoint consumption, simply click on the Sub-accounts tab. For each sub-account listed you will see the number of activated systems, and related Datapoints consumption.
If you have many sub-accounts and you want to know which subaccounts consume the most or the least, you can filter on Datapoints, for example:

Once you have identified a sub-account you want to examine, you can click on its row, to display the detailed view, including its current and historical data consumption.
The system widget in the main dashboard shows the total systems from all the sub-accounts including those of the level 1 (mother) company. The sub-accounts tab includes shows the breakdown for the each sub-account.
You can retrieve all detailed information of your sub-accounts by month in Excel format. To do so:
What if a sub-account is consuming too many datapoints?
You can identify which system(s) are consuming the most, and if necessary reconfigure them. For more details, see this link
You can also move your system in Maintenance state: no data points will be stored and consummed.
Finally, you can deactivate a sub-account. For more details, see Sub-account tab documentation
What can a sub-account view?
Each sub-account has limited access to the Account Management application, restricted to its own data.
Only Dashboard tab and My Details tab are available.
To use Account Management in the context of one of your sub-accounts, follow this procedure: How to use the app for a partner Sub-account?