---
This page applies to Ready-to-Connect modules (RC/HL/WP series) as well as FX30 programmable IoT gateways.

For Ready-to-Connect AirLink gateways (LX/RV series), please refer to this guide instead: Getting Started with Ready-to-Connect AirLink Gateways
This is a high-level quick start guide. For detailed module integration guidelines including hardware, software and cloud, please refer to this PDF document: Ready-to-Connect Module Integration Guide
Double-check module configuration
In order to start using the embedded connectivity, you must ensure that:
The eSIM interface is selected locally on the device
The APN is set to fota.swir for LTE Cat-1+ devices or lp.fota.swir for LPWA devices
These are the default settings on most products. However, please refer to the AT command reference manual of your wireless module to verify that they are set on yours.
Our catalog of radio modules and their documentation is available at: https://source.sierrawireless.com/
Device behavior before activation
If you power a Ready-to-Connect device with its eSIM selected before you activate it on the AirVantage cloud platform, the following behavior is expected:
The device may report successful attachment to the network
No service will be available at all (e.g. you will not be able to establish a PDP context)
We recommend that you activate connectivity for the device in AirVantage before its first power-up in order to ensure service availability.
---
Locate or register devices
In order to locate your devices in AirVantage:
Log into your AirVantage account at https://eu.airvantage.net/accounts
Follow the Manage my fleet link
Go into Monitor > Systems using the top navigation bar
Use the list filters to find your devices by IMEI, Name, ICCID or other criteria
If your devices appear in the list, you're all set to activate! Otherwise, please refer to the following guide before continuing: How to register AirPrime modules into your AirVantage account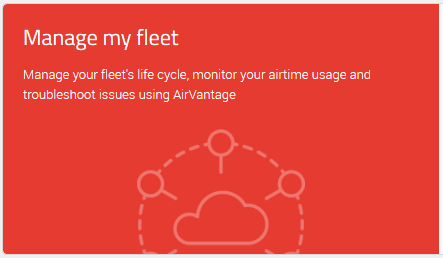 Activate service
Once you have located your devices in AirVantage:
Tick the box next to the device for which you wish to activate connectivity
Click the green Activate button in the list header toolbar
In the pop-up dialog, select a service offer and click the Activate button
The offer named Sierra Wireless Device Management will not activate the eSIM. It is reserved for use of the device with a 3rd party, external SIM.
Power up device
First start-up
Upon first start-up of a Ready-to-Connect device that has been activated in AirVantage, the eSIM must perform a network scan in order to attach for the first time. The order of magnitude for this one-time process is 15 minutes, depending on local radio network conditions.
Subsequent start-ups
On subsequent start-ups of the device, network attachment should take around 15 seconds.
---
Visualize airtime consumption
In order to visualize consumed airtime in the web interface:
The dashboard displays information about your fleet of devices:
How many are activated versus inventory or retired
How many are within their monthly plan or exceeding/nearing plan
Month to date cumulated data usage on a graph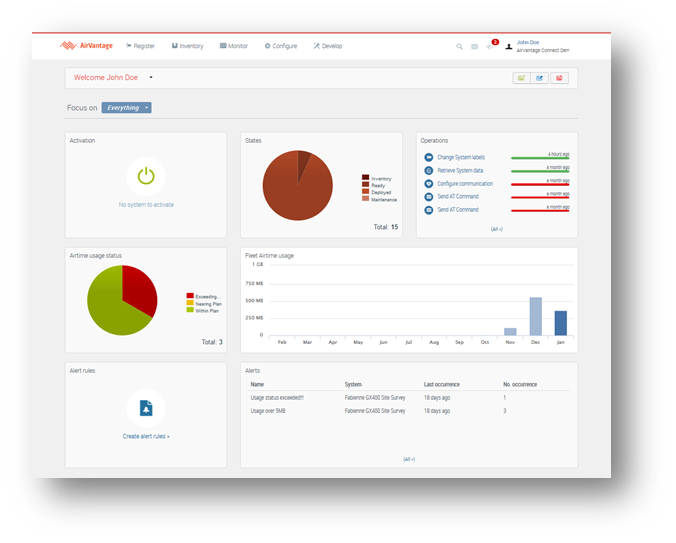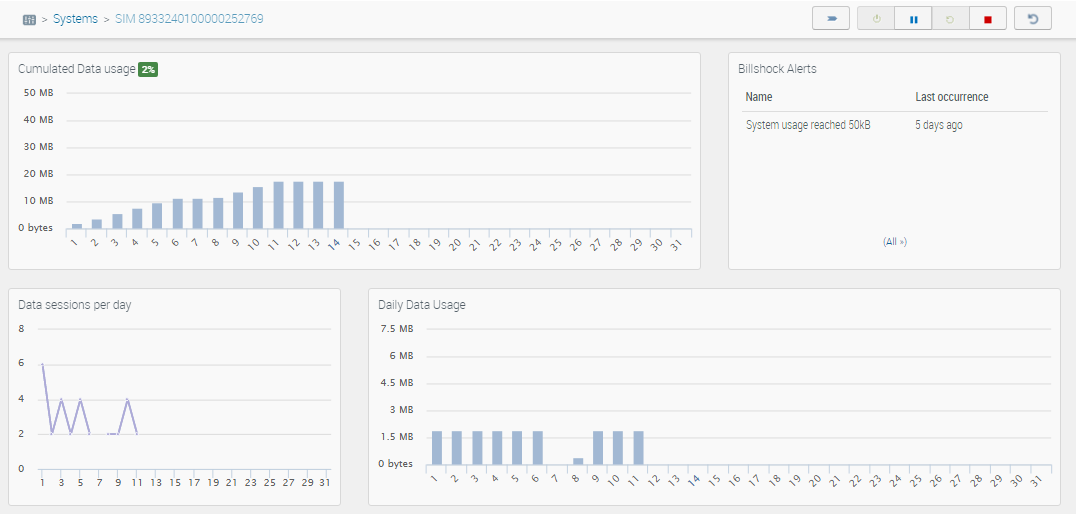 Drilling down into an individual system shows:
Month to date cumulated usage graph
Consumption status versus the plan
Daily consumption graph
Daily session count
Setup alerts
Avoid bill shock by setting up alerts when airtime consumption thresholds are being reached.
In order to create a new alert rule:
Log into your AirVantage account at https://eu.airvantage.net/accounts
Follow the Manage my fleet link
Go into Configure > Alert rules using the top navigation bar
Click the green + button to begin creating a new rule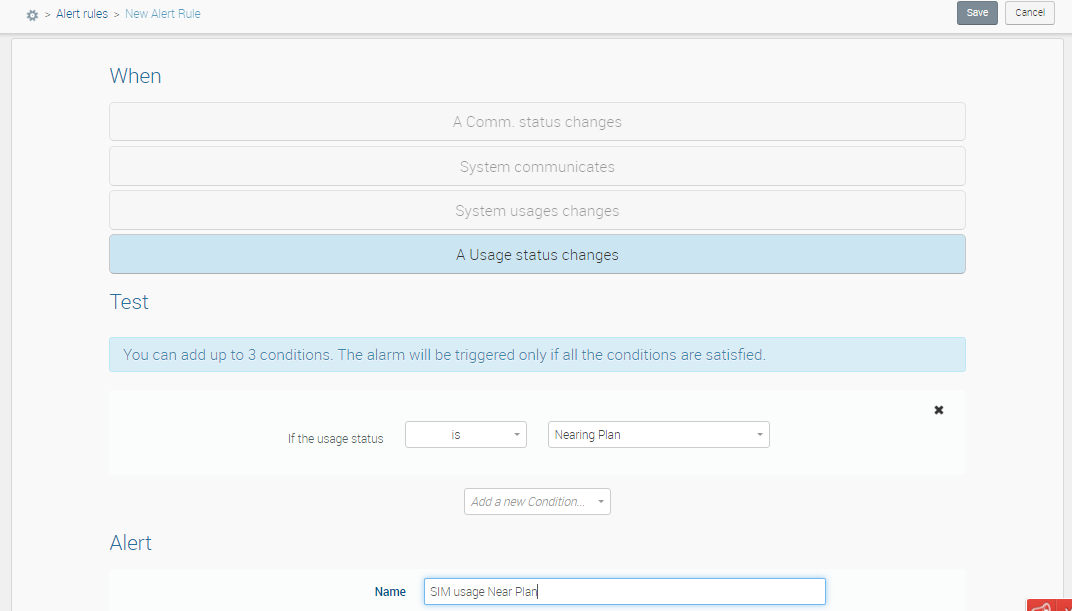 ---
Facing an issue with any of the steps?

Please check out our FAQ section , use the search function above to find relevant information, or contact our technical support team from your account: https://eu.airvantage.net/accounts/