This page provides a high-level quick start guide to getting started with your ALMS with Connectivity account.
---
While ALMS accounts that support connectivity can be created on either the NA or the EU server, customers that wish to activate a Ready-to-Connect gateway on a connectivity offer must have their account created on the EU server. Sierra Wireless Ready-to-Connect connectivity is only supported on this instance. Sierra Wireless Customer Support can assist with the account creation process for scenarios where the server instance and your organizations geography do not align.
Supported Devices
An ALMS account that supports connectivity provides the greatest value when combined with one of our Ready-to-Connect AirLink gateways or routers that include the Sierra Wireless eSIM – the AirLink LX40, LX60 and RV55 (Cat 4 version). These Ready-to-Connect gateways include a module that embeds a Sierra Wireless Smart SIM, soldered inside the radio module. Use of this eSIM is optional: all Ready-to-Connect gateways can also accommodate an external SIM from any existing carrier.
This guide assumes that you wish to activate your module, including the eSIM, for the full Ready-to-Connect experience. The full Ready-to-Connect experience requires ALEOS 4.14 or later.
For devices running a version of ALEOS prior to 4.14, a manual configuration of the gateway is required to enable the eSIM. Please refer to this How-to-Article .
Gateway behavior before activation
If you power a Ready-to-Connect gateway before you activate it on ALMS, the following behavior is expected:
The gateway may report a successful attachment to the network.
No service will be available (e.g. you will not be able to establish a connection that will transfer data).
You are required to register and activate the gateway in ALMS shortly before its first power-up in order to ensure service availability.
Support for non-Ready-to-Connect Devices
Your ALMS account that supports connectivity continues to support both current generation and legacy AirLink gateways and routers.
Other gateway models continue to be supported, but do not support the eSIM and eSIM-based connectivity.
For current generation hardware you will need the device's serial number (for ES, GX) or serial number and IMEI (in the case of the ES450, GX450, MP70, RV50/RV50X, RV55, LX60 and LX40) or serial number and registration code (AirLink OS-based devices). This information is printed and bar coded on the device label and is also displayed in ACEmanager or AirLink OS. Your Sierra Wireless Partner should also be able to provide a spreadsheet of the required information for each order.
For legacy devices (Raven, PinPoint and MP with ALEOS 4.0.8 firmware or newer) you will need the ESN or IMEI, or the serial number (LS). They are printed and bar coded on the bottom label and displayed in ACEmanager.
For more information about how to configure your gateway to use ALMS, please refer to the dedicated Gateway configuration page .
---
A number of default plans are available in your ALMS account. These may include:
AirLink Complete
AirLink Complete (XR80)
AirLink Premium
AirLink Connectivity (EU)
Other offers may be included in your account.
To register and activate your device:
Log in to your ALMS account at https://eu.airvantage.net/accounts .
Go to Register.
Select the correct device type and register (singly or in bulk).
For full details on the register process, refer to the Register documentation .
Activate Ready-to-Connect Gateways
To take advantage of the ease of use of a Ready-to-Connect gateway, select one of the AirLink Connectivity plans. This will activate the eSIM to provide connectivity and register the device for AirLink Complete, giving you full access to all the features of ALMS and access to the Sierra Wireless Customer Support team.
Activate non-Ready-to-Connect Gateways
You can continue to have a single view of your entire fleet of Sierra Wireless products. Your non-Ready-to-Connect gateways and routers can be activated on the AirLink Complete or AirLink Premium plans (depending on device eligibility), providing the same solutions your have been used to, just billed monthly instead of using tokens.
The activation operation of a Ready-to-Connect gateway in ALMS only completes once the internal SIM has attached to the network and been successfully configured. It is normal to see the activation operation stay "In Progress" until the gateways are powered on (see next steps).

Activation operations (including pre-configuration operations) will expire after 1 year and end in a failure if the gateways have not been powered on. In this case, activation will have to be retried later, preferably with the gateway powered on.

Activating a device starts the monthly billing cycle for that device.
Power up the gateway
First start-up
Upon first start-up of a Ready-to-Connect gateway that has been activated in ALMS, the eSIM must receive over-the-air configuration information and perform a network scan before becoming fully functional.
The approximate duration of this one-time process is 15 minutes. During this time, we request that you follow these guidelines:
No data, SMS or voice communications should be attempted
Module reboots should be avoided (or the process will have to start over)
A loss of network attachment, lasting for a few seconds, may be noticed at the end of the process
The signal that the eSIM and the gateway is fully ready for use is when the Activation operation in ALMS ends in a success.
Subsequent start-ups
On subsequent start-ups of the gateway, network attachment should take around 15 seconds.
---
ALMS with Connectivity Dashboard
The default Dashboard on an ALMS with Connectivity account provides widgets that help with managing both your devices (Ready-to-Connect and non-Ready-to-Connect) and your connectivity. Widgets include:
Device state
Communication status
Map-based view of device location
Fleet invoiced data usage
Signal strength
…and many others!
The Dashboard is highly configurable, and you can configure it to show the information that is important to you. See the Dashboard page for more details on the full capabilities. The Monitor > Systems page is the primary page for understanding the state of your deployment.
It provides access to all gateways along with their status, communication history, configuration and management. This page is also customizable to present the information that is most important to you.
Communication Frequency
If you find that your device is not communicating with ALMS as frequently as required, you should run a Configure Communications operation.
Click the Configure Communications action button.
The communications timer window will open and you can set the Heartbeat and Status Report timers as desired. The timers cannot be set for less than 15 minutes.
When selecting more than one gateway, all the values will be set to "off". It is important that you re-set all values, or they will be disabled.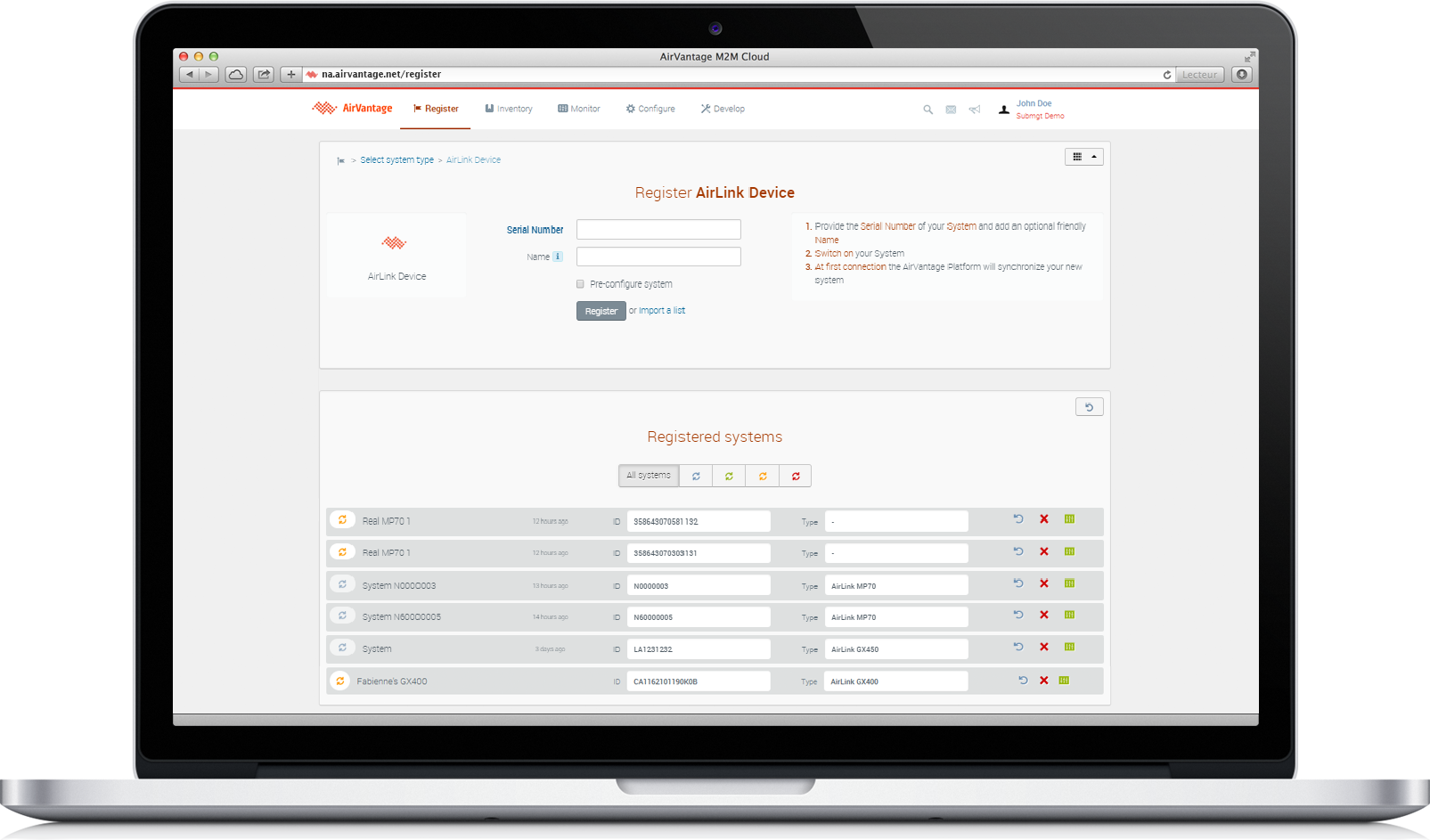 ---
Visualize device performance and airtime consumption
Drill down to an individual gateway to show:
Combined system information
Month to date cumulated usage graph
Consumption status versus the plan
Daily consumption graph
Daily session count
Location information (if available)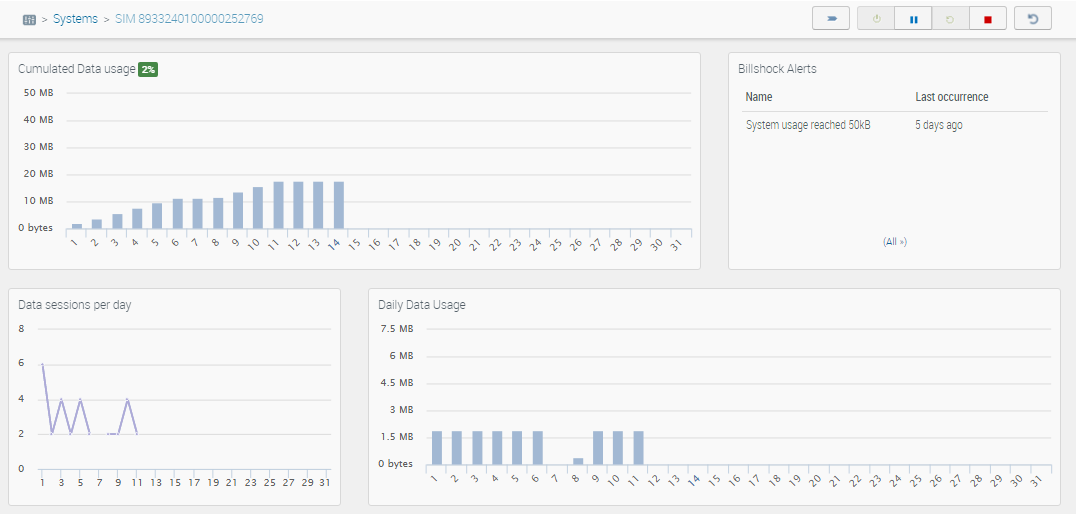 Set up alerts
Avoid bill shock by setting up alerts when airtime consumption plan thresholds are being reached.
From your AirVantage account, create your own rule, clicking on the Configure > Alert rules menu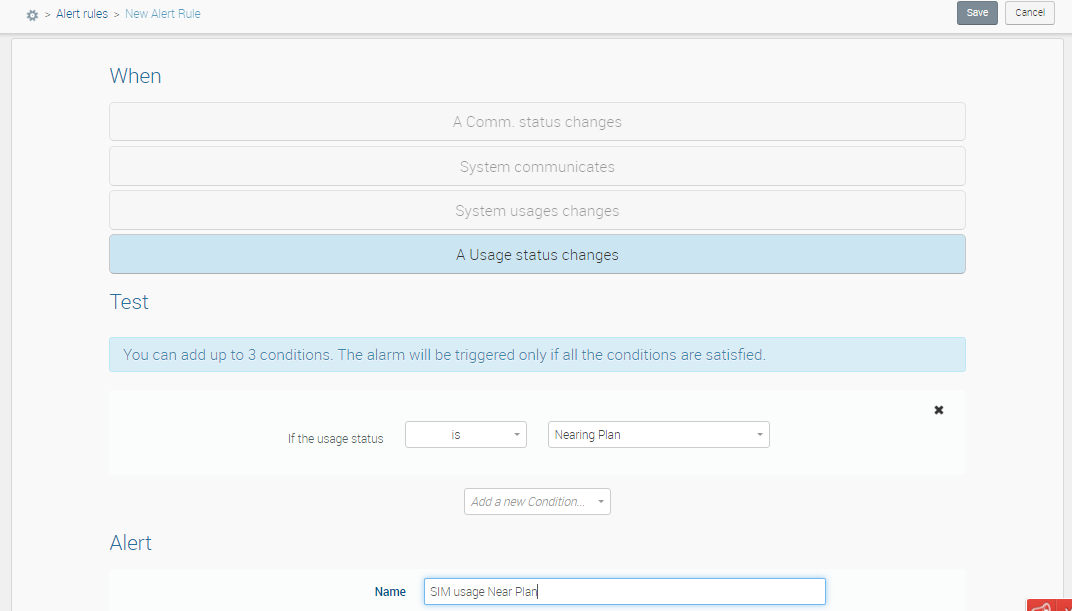 ---
Facing an issue in any of the steps?

Please check our FAQ section , and use the search function above to find relevant information, or contact our technical support team from your account: https://eu.airvantage.net/accounts/