---
Wireless module pre-requisites
If you are using a SW Advanced SIM, specific guidelines must be observed by the radio module in order for the SIM to function properly. Please verify that:
The SIM Application Toolkit (STK) is active on the module
The module is configured to run automatic network selection
GPRS/Packet data auto attachment mode is active on the module
Please refer to the AT command reference manual of your wireless module to verify these configurations and adjust them if necessary.
A complete list of module prerequisites is described in the Sierra Wireless Device requirements document.
If you are using SW Essentials SIM or Enhanced carrier connectivity SIM, there are no specific requirements towards the module.
PIN code is disabled by default in the SIM card. It can be enabled if needed; contact Sierra Wireless support for more information.
Order new SIMs
When needed, you can order SIM cards from your AirVantage account.
Log into your AirVantage account at https://eu.airvantage.net/accounts
Follow the Order link
Select the product you want to order
Confirm delivery address
Track the progress of the shipment from the order details screen
You will receive an email notification when SIMs are shipped.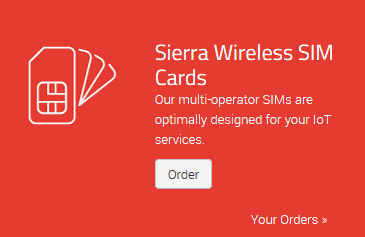 ---
Locate SIMs
In order to locate your SIMs in AirVantage:
Log into your AirVantage account at https://eu.airvantage.net/accounts
Follow the Manage my fleet link
Go into Monitor > Systems using the top navigation bar
Use the list filters to find your SIMs by Name, ICCID or other criteria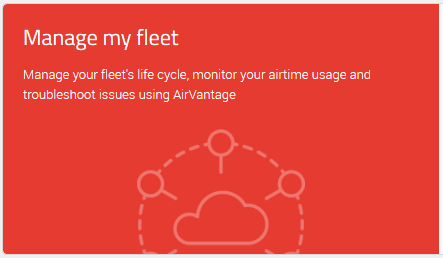 Optional: associate your SIMs with modules
Before activating connectivity on your SIM cards, you may wish to pair them with Sierra Wireless modules or modems. If so, please refer to the following guide before continuing: How to register AirPrime modules into your AirVantage account
Activate service
Tick the box next to the SIMs you wish to activate
Click the green Activate button in the list header toolbar
In the pop-up dialog, select a service offer and click the Activate button
Configure the APN
Once the SIM is activated, you will need to configure the APN on the module or device.
SW Advanced SIM and SW Essentials SIM
To know which APN to configure, once the SIM is activated, go on Systems > Details and check the authorized APN in the System Info widget:

In the above image, only internet.swir is authorized on the system and shall be configured on the device or module.
If your connectivity offer specifies a different APN, it will appear there and will have to be configured in your module with the same value.
Enhanced carrier connectivity SIM
In case you are using an Enhanced carrier connectivity SIM, the APNs to be configured on the device are pre-defined and don't depend on the offer picked at activation:
AT&T-CC on US offer: nmrx11.com.attz
AT&T-CC on International offer: nmrxintl.com.attz
Verizon: num.vzwentp
T-Mobile: tm1nmrx
Rogers: swi3.ca.apn
SMS and Voice
SW Advanced SIM and SW Essentials SIM
Smart Connectivity allows SMS and Voice from any other mobile number. In order to send SMS or initiate voice calls, the international format for the destination number must be used: 00 or +, followed by the phone number without the first 0. Examples:
+12004510000 or 0012004510000 for a US destination number
+4479377000000 or 004479377000000 for a UK destination number
A list of international country codes can be found at http://www.itu.int/dms_pub/itu-t/opb/sp/T-SP-E.164D-11-2011-PDF-E.pdf
Enhanced carrier connectivity SIM
Enhanced carrier connectivity SIM only allows SMS service from and to your application. For Mobile Originating SMS (i.e. from a device to your customer application), your device will have to be programmed to send SMS to carrier short code. In the list below, pick the short code corresponding to your ClassicSIM product reference:
AT&T-CC: 53340005
Verizon: 2183500292
T-Mobile: 3339
Rogers: 600000012
Messages from your devices and sent to those short codes will then be transmitted to your customer application through the AirVantage Cloud Connectors.
For Mobile Terminated SMS, the Send SMS action (used from the user interface or from the API) will enable you to send an SMS to a device from your fleet.
Attach to the network
First start-up
Upon first start-up of a module with a SW Advanced SIM, the SIM card must perform a network scan and select the best combination of visited network / roaming agreement.
The order of magnitude for this one-time process is 15 minutes. During this time, we request that you follow these guidelines:
No data, SMS or voice communications should be attempted.
Module reboots should be avoided (or the process will have to start over).
Subsequent start-ups
For SW Advanced SIM, SW Essentials SIM and Enhanced carrier connectivity SIM, network attachment shall take around 15 seconds.
For Tailored SIM, network attachment may take 1 to 2 minutes depending on the module and the network conditions.
---
Visualize airtime consumption
From your AirVantage account
Follow the Manage my fleet link
The Dashboard shows some information on your fleet of SIMs:
How many are activated versus inventory or retired
How many are within the plan or exceeding/nearing plan
Month to date cumulated data usage on a graph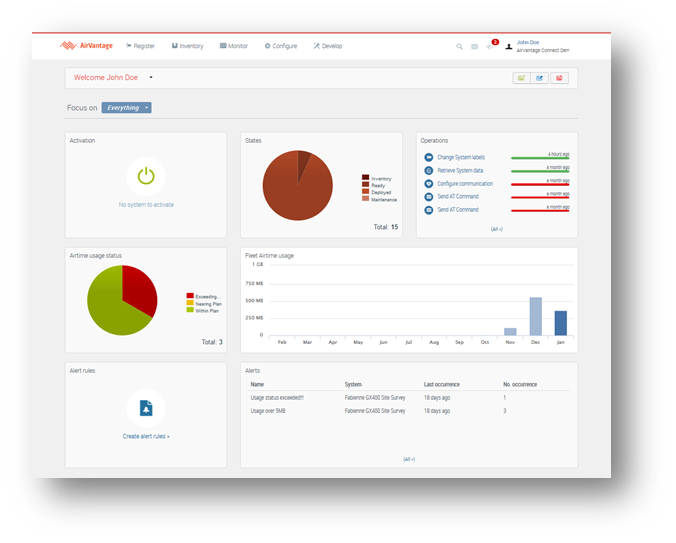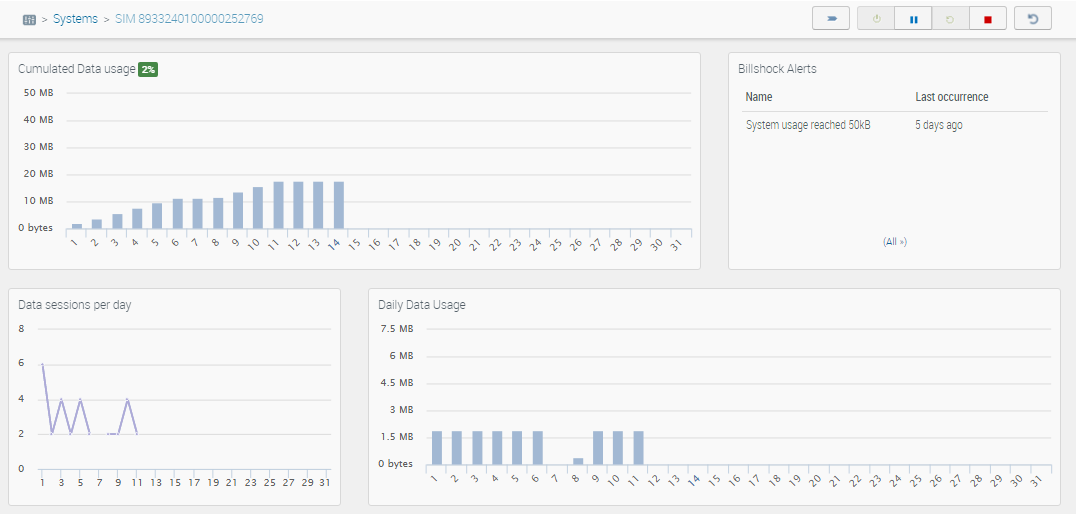 Drill down to an individual SIM shows:
Month to date cumulated usage graph
Consumption status versus the plan
Daily consumption graph
Daily session count
Setup alerts
Avoid bill shock by setting up alerts when airtime consumption plan thresholds are being reached.
From your AirVantage account
Follow the Manage my fleet link
Create your own rule, clicking on Configure > Alert rules menu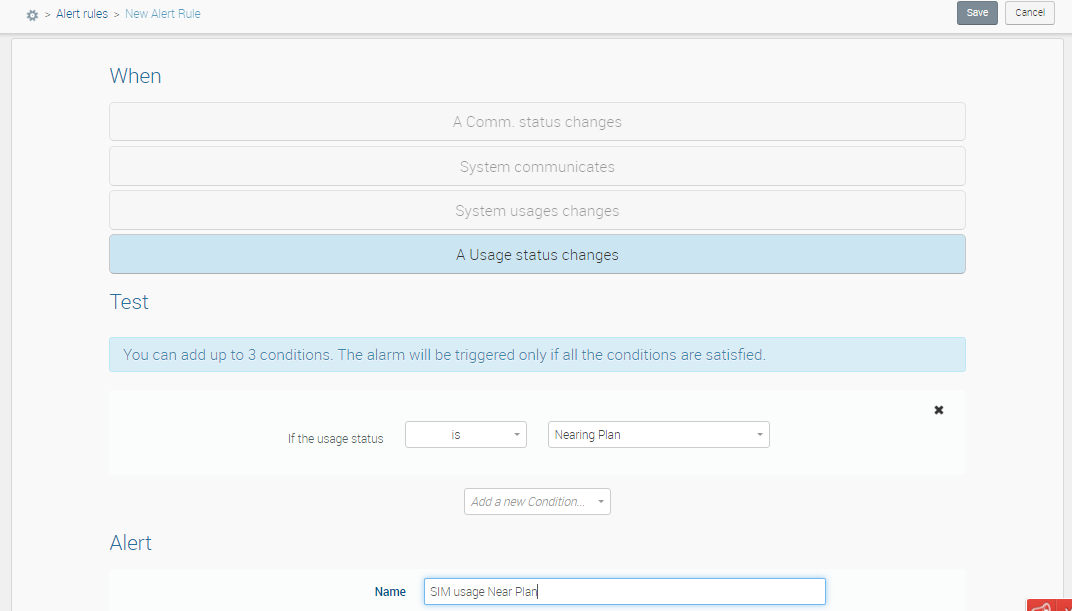 ---
Facing an issue in any of the steps?

Please check our FAQ section , use documentation search engine to find related information or contact our technical support team from your account: https://eu.airvantage.net/accounts/