Which modules have the unlimited FOTA capability?
Unlimited FOTA applies to AirPrime devices and AirLink programmable modems as follows: - HL series - WP series - MC Series: MC73xx if used with Linux QMI SDK 3.3.7 or more - AR Series This functionality is also available on some Open AT legacy products: - SL Series: SL6087, SL808xT - WMP Series - Q Series: Q2686, Q2687, Q2698 - FX Series: FXT009, FX100 - GL Series: GL61xx
For more details on Unlimited FOTA compliancy for a specific device or firmware version, check at source.sierrawireless.com Be careful: Unlimited FOTA is applicable to firmware only (Extended AT Application is excluded).
What do I need in order to use the Unlimited FOTA?
Unlimited FOTA is a free cloud-based remote upgrader application. It is enabled by a limited version of AirVantage therefore referred as AirVantage FOTA edition. Sierra Wireless operates it as a service. You access it using a web browser. There is no software to download/ install and no ongoing maintenance required by the customer.
Which mobile operators does the service work with?
Unlimited FOTA is operator independent. It will work with all mobile operators on which AirPrime and AirLink devices can be deployed.
How do I get an Unlimited FOTA account?
You can contact your usual AirPrime module reseller. They are trained and able to support your Unlimited FOTA user experience. Alternatively you can sign-up for an Unlimited FOTA account here
Can AirVantage FOTA Edition work with operator private networks?
Yes. It is simply a matter of configuring your network to allow management traffic to AirVantage. Remember, you need only allow outgoing traffic because of our device-initiated communication model. You can maintain all inbound firewall protection.
What are the supported Web browsers?
The compatible web browsers are: Microsoft Edge, Mozilla Firefox, Google Chrome and Safari.
How can I check AirVantage FOTA Edition health?
We are transparently communicating on all Sierra Wireless services live availability using page http://status.sierrawireless.com. The status page can be easily accessed from the AirVantage login page.
For each service, information can be found on:
Live operational state of the different components
Next planned maintenance windows
Incidents that have occurred in the past
We also invite you to subscribe to receive proactive notifications when one or more services are experiencing an outage and to be informed of any upcoming planned maintenances. To subscribe, simply click on 'Subscribe to updates' from the status page itself.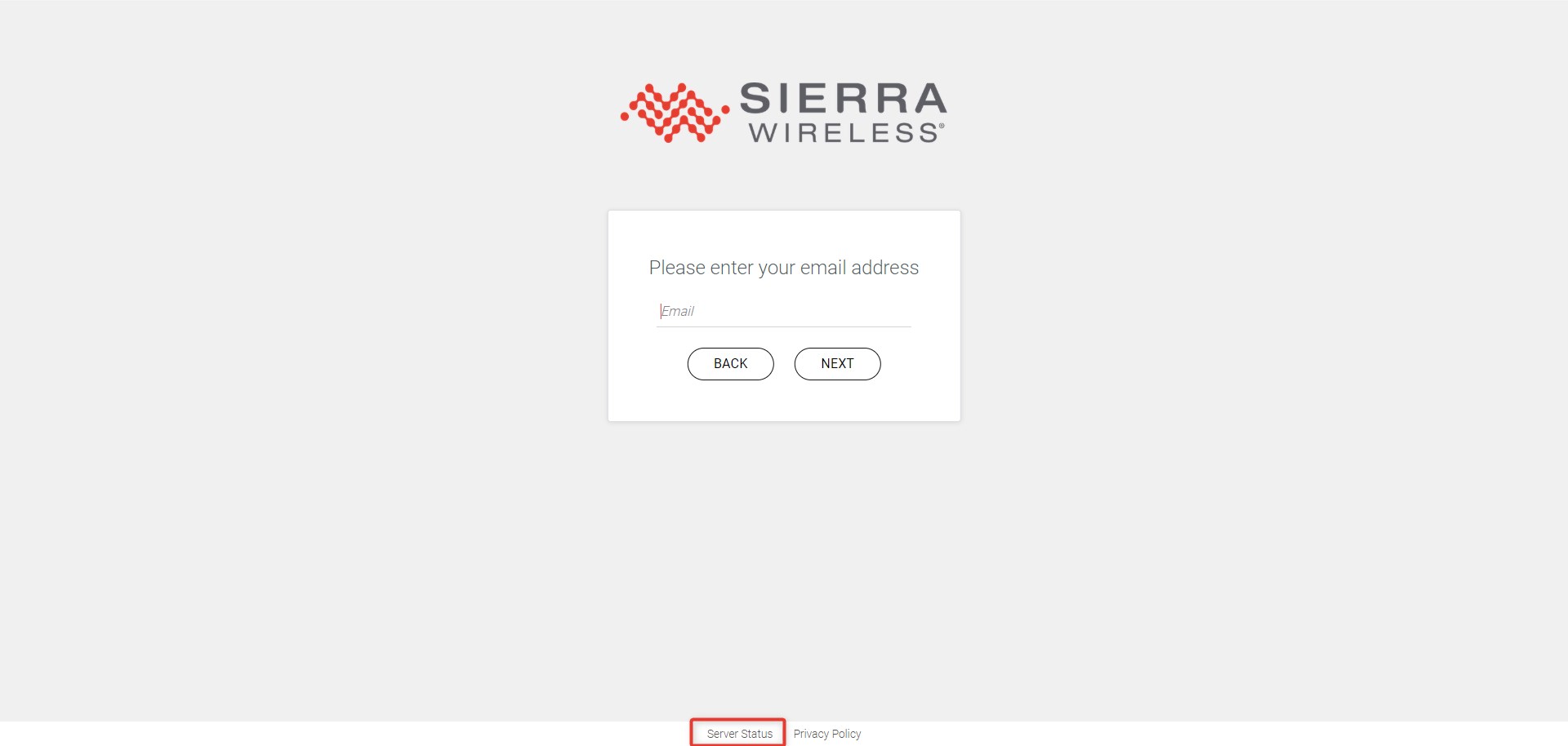 Among the wide list of products proposed within the status page, we suggest that you subscribe to the service 'AirVantage - Connectivity & Device Management, FOTA edition'and finetune your subscription by picking the components User interface, Web services API and Device Frontend.
Don't forget to clear all services for which you don't want to receive notifications not to be spammed by unrelated outages!