Which devices does the AirLink Management Service work with?
AirLink Management Service can remotely monitor and configure AirLink ALEOS gateways and routers. The latter includes the GX, LS, ES, RV Series, LX Series, and MP Series. It does not include the Helix router.
What do I need in order to use the AirLink Management Service?
AirLink Management Service is a cloud-based remote device management application. This means Sierra Wireless operates it as a service. You access it using a web browser. There is no software to download/install and no ongoing maintenance required by the customer.
Which mobile operators does the service work with?
AirLink Management Service is operator independent. It will work with all mobile operators on which AirPrime and AirLink devices can be deployed.
Can I try AirLink Management Service?
Yes. All new ALMS-compatible AirLink devices include 1 year of AirLink Complete, with includes access to ALMS for a year. Customers simply need to register their devices for AirLink Complete and they will have access to ALMS as part of AirLink Complete. You can register at https://www.sierrawireless.com/complete/register/ and more information on AirLink Complete is available on our website (https://www.sierrawireless.com/products-and-solutions/routers-gateways/airlink-complete/).
For customers with older devices that would like to trial ALMS, please contact your Sierra Wireless Partner, and they can assist with a trial.
How do I purchase AirLink Management Service?
You can purchase AirLink Management Service from the same authorized reseller that supplies your Sierra Wireless hardware. All resellers are trained and able to support your AirLink Management Service user experience.
How is AirLink Management Service different from ACEmanager?
ACEmanager allows you to configure an AirLink ALEOS device using a web browser. ACEmanager resides on the device and allows you to configure only that device. AirLink Management Service provides a one-to-many solution for both monitoring the status of all your devices as well as configuring all of your devices.
Does AirVantage require my devices to have public IP Addresses?
No. Unlike most device management applications, AirLink Management Service has been designed to support a device-initiated communication model. This allows your devices to remain privately secured behind your firewall (or your network operator's firewall) and still communicate with AirVantage.
Can AirVantage work with operator private networks?
Yes. It is simply a matter of configuring your network to allow management traffic to AirVantage. Remember, you need only allow outgoing traffic because of our device-initiated communication model. You can maintain all inbound firewall protection.
Can AirLink Management Service be used to upgrade device firmware?
Yes. AirVantage Management Service is the preferred way for customers to upgrade their firmware and embedded application over the air. The firmware is delivered automatically to customers via AirVantage, and can be applied to all devices or a selected group of devices easily.
What are the supported web browsers?
The compatible web browsers are: Microsoft Edge, Mozilla Firefox, Google Chrome and Safari.
What are the Default Status Report Parameters?
This status report is automatically created upon system first connection to the AirLink Management Services.
The list of default parameters requested as part of a status report can be found in this dedicated section.
What is the Default Data Consumption?
The default data consumption for ALEOS devices for a heartbeat only or a heartbeat + status report can be found in this dedicated section. Consumption data is given for both HTTP and HTTPS configurations.
How can I check AirVantage health?
We report all Sierra Wireless services' live availability at http://status.sierrawireless.com. The status page can be easily accessed from the AirVantage login page—click the Server Status link.
For each service, information can be found on:
Live operational state of the different components
Planned maintenance windows
Past incidents
We also invite you to subscribe to receive notifications if one or more services are experiencing an outage and to be informed of any upcoming maintenance. To subscribe, click Subscribe to updates on the status page itself.
For complete information, see our Customer Subscription Instructions (PDF).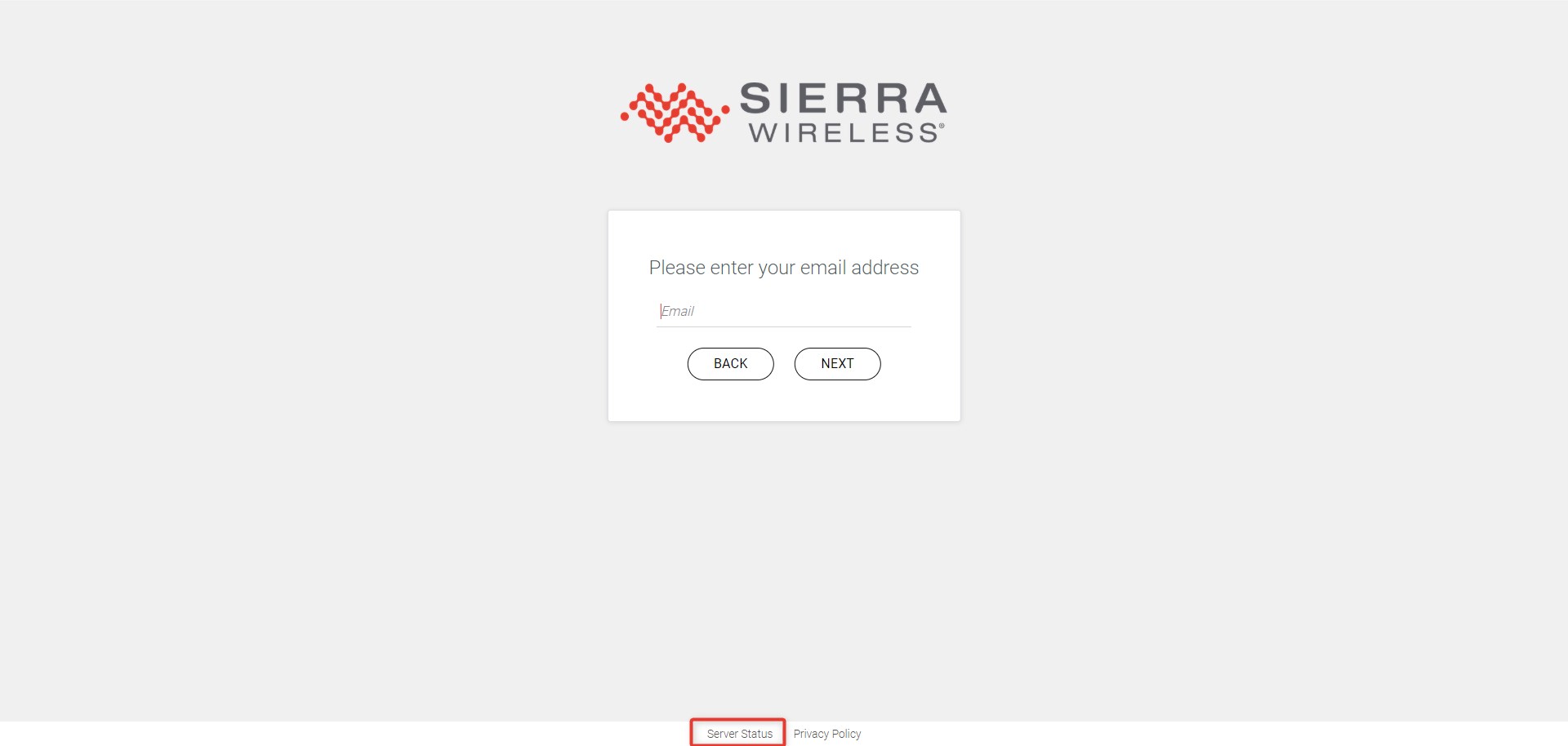 Among the wide list of products proposed within the status page, we suggest that you subscribe to ALMS. Within the ALMS section, select the components:
User interface
Web services API
Device Front end
And eventually VPN Concentrators and Reporting (ARA) if you have subscribed to those options
Don't forget to clear all services for which you don't want to receive notifications not to be spammed by unrelated outages!