AirLink gateways running ALEOS can be set up in AirVantage to perform Server-Initiated Operations.
Server-initiated communication is only supported for AirLink gateways using MSCI to communicate with AirVantage. Server initiated communication is not a supported feature on LightWeightM2M (LWM2M), and this feature is not recommended for use. LWM2M is the default protocol on ALEOS 4.6.0 and later.
For older/legacy devices that support MSCI by default, the password and Static IP/Host fields appear on the registration page.
For devices that support LWM2M, you must specify a reference firmware that will allow the device to run on MSCI. Click Specify reference firmware and select a non-LWM2M firmware for your device.
Enter the parameters AirVantage needs to initiate communications with the gateway:
Static IP address or host name
Communication password: same as the one use to login on ACEmanager

If you set up server-initiated communications for your system, later you can request AirVantage to perform server-initiated operations with the option Request Connection. An example on Apply template operation: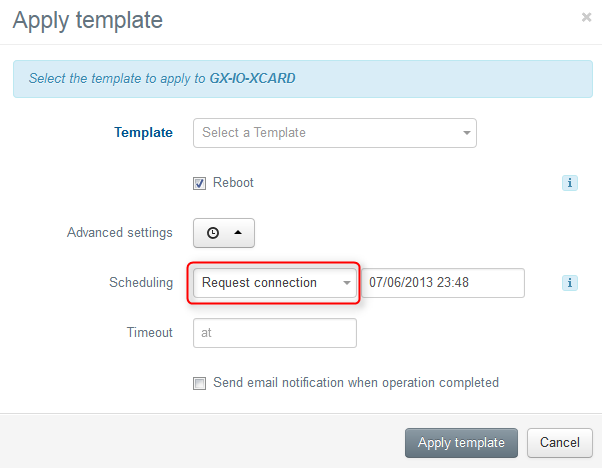 Even if your system is configured for server-initiated communications, the initial synchronization is still Device Initiated.
You must be able to ping the device IP address through your network connection in order for this option to work. Not having server initiated communications does not limit the functionality of AirVantage in any way.