AirLink Vehicle Telemetry Configuration (AVTC) is an AAF application that allows convenient distribution of proprietary vehicle configuration information to supported AirLink devices. In addition, it provides a convenient way to update firmware on GNX-6 devices that are connected to AirLink devices in GenX Companion mode.
AVTC consists only of vehicle-specific data. There is nothing to configure on the app itself. When installed on a supported AirLink device running ALEOS 4.12.0 or later, it enables the device to collect proprietary vehicle data parameters. AVTC enables reporting of proprietary vehicle information to ALMS (with AVTA installed).
Why Install AVTC?
A standard OBD-II or J1939 connection to an AirLink gateway or router enables a limited number of vehicle parameters to be reported to ALMS or AMM. Even with this limited set of standard parameters, such as RPM, speed, relative odometer and emissions data, the exact items reported by a given vehicle may vary.
AVTC enables the collection of several desirable parameters that are not available via the standard data. These parameters may include, for example, dash odometer, seatbelt status, tire pressure and door status. Typically, proprietary data depends on the vehicle make, model and model year. Once AVTC is installed, ALEOS vehicle telemetry determines the make, model and year by decoding the VIN obtained from the vehicle, and then selects the appropriate vehicle parameters from a list of available vehicles. For more information, see…
Additional Feature: GenX Companion
A secondary feature of AVTC is enabling firmware updates to any GNX-6 devices connected to an AirLink device in GenX Companion mode. New releases of AVTC will include new GenX firmware releases and will apply the firmware to the GNX-6 device.
ALEOS 4.12.0 and later supports GenX Companion mode to extend the telemetry capability of the AirLink MP70. In Companion mode, a GNX-6 device attached to the MP70 serial port can transmit J1708 vehicle data and report it to ALMS or AMM via the standard AirLink reporting mechanisms. When the GNX-6 is used in this way, it can only be upgraded via the AirLink device it is attached to. AVTC is used to distribute new GNX-6 firmware via the AirLink device to allow an upgrade to take place.
GenX Companion mode requires installing the AVTC app and a GenX companion kit (Sierra Wireless part number 6001225). Please contact your Sierra Wireless Partner for more information about GenX Companion.
Using AVTC
AVTC is upgraded regularly as Sierra Wireless expands its database of proprietary vehicle information, including new vehicles and additional vehicle parameters. The latest version of AVTC should always be installed on all devices that have vehicle telemetry enabled.
If your AirLink device is collecting telemetry data for a non-vehicle application, please consult your Sierra Wireless Partner before installing AVTC.
If AVTA or AMMER is installed on an AirLink device, then AVTC should be installed as well. Although vehicle telemetry will work when AVTC is not installed, access to proprietary vehicle data will not be available unless it is installed.
There is an exception—if you have installed a specific vehicle configuration file locally via ACEmanager (Services > Vehicle Telemetry > Advanced > Telemetry Configuration), proprietary data will be read from the vehicle. If the data is in the set of standard reportable items (such as seatbelt and dash odometer) then it will be reported as well. If the data is not in the set, then it will not be reported even if it is read from the vehicle. Sierra Wireless recommends that all local configuration files are removed from devices once AVTC is installed.
Installing AVTC
To install AVTC:
On the Monitor > Systems page, select the desired system. It must be an MP70 running ALEOS 4.12.0 or later.
Click the More button, and then select Install Application.

On the next screen, select the latest version of AVTC.

Click Install Application.
You can also install AVTC when you register a new device on ALMS.
To install AVTC when registering a new device:
After entering the device serial number and IMEI/ESN and entering an optional device name, select Pre-configure system.
Click Register.
Drag and drop the Install AAF Application workflow under Apply Template.
Set your AAF password and select the latest version of AVTA.
Click Show individual actions, and then drag and drop Install Application under the Install AAF Application workflow.
Select the latest version of AVTC.
Click Pre-configure.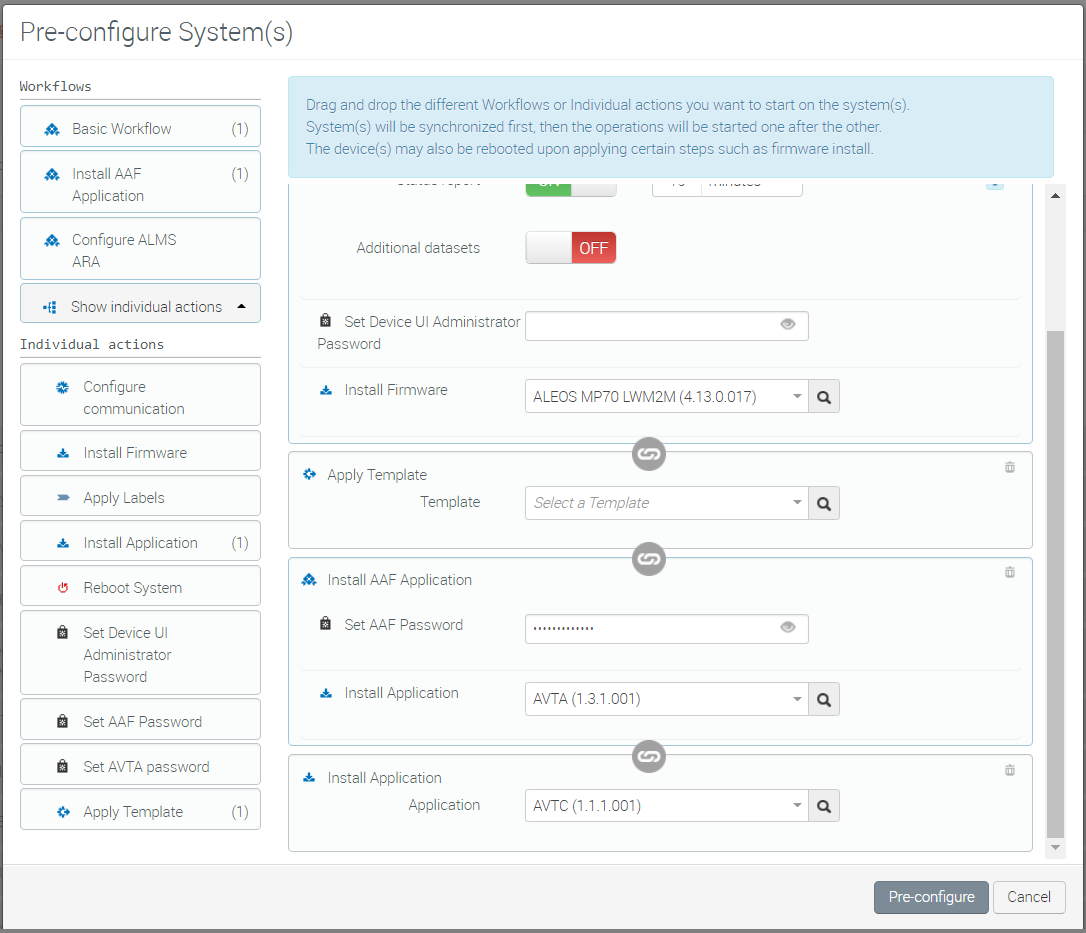 Once AVTC is installed, AVTA telemetry detects the vehicle's VIN and selects the appropriate configuration. Any proprietary data from the vehicle will be reported without any further action.
Supported Vehicles and Vehicle Parameters
Note that Airlink CAN OBD-II interface is only supported on vehicles 2008 and later. CAN support should work on vehicles 2006 and later, but Sierra Wireless does not guarantee it.
Manufacturer & Model
Model Year
Dash Odometer
Seat Belt
Tire Pressures
Other
Dodge RAM
pre-2018
Yes
Yes
Dodge Charger
pre-2018
Yes
Yes
Chevrolet Equinox
All (subject to further testing)
Yes
Yes
Chevrolet Silverado
All
Yes
Yes
Ford Escape
All
Yes
Yes
Ford Explorer
Pre-2015
Yes
Yes
Ford Explorer
2015-
Yes
Yes
Yes
Ford F-150
Pre-2015
Yes
Yes
Ford F-150
2015-
Yes
Yes
Yes
Ford F-250
Pre-2015
Yes
Yes
Ford F-250
2015-
Yes
Yes
Yes
Ford Taurus
2016-
Yes
Yes
Yes
GMC Canyon
All
Yes
Yes
GMC Sierra
Pre-2012
Yes
Yes
GMC Sierra
2012-
Yes
Yes
Toyota Landcruiser (Aus)
2011-
Yes

Doors: 4 + tailgate
Lights: park, main, high
Brake: % and switch
Current Gear (auto)
Throttle %
Cruise Control Switch

Toyota Landcruiser Prado (Aus)
2011-
Yes

Doors: 4 + tailgate
Lights: park, main, high
Brake: % and switch
Current Gear (auto)
Throttle %
Cruise Control Switch